Welcome to Advent !

Sunday services have been postponed
Advent is Christ's church. We proclaim Christ as Lord and Savior and believe that salvation is a gift from God. His amazing grace and steadfast love surround us. In the waters of baptism we are claimed by God and marked with the cross of Christ forever.
You too are called to live in this relationship and to know Jesus.
Church provides a place of refuge from the challenges of everyday life. We experience the presence of the Holy Spirit working among us, and church is a place to share with fellow believers. Jesus has promised an abundant life for those who choose to follow Him in this journey. So come and join us!
Ash Wednesday marks the beginning of Lent, a season when God calls us to reflect on the meaning of Christ's suffering, death and resurrection. The imposition of ashes–receiving ashes in the sign of the cross on your forehead–sets the tone for Lent. Each moment you encounter your reflection, your ashes are a striking reminder that "You are dust, and to dust you shall return" (Genesis 3:19b). But the cross, a symbol of Jesus' crucifixion, offers hope. Hope that Jesus is with us always, even to the end of the age. Hope that by his resurrection he has conquered death and opened the kingdom of heaven to all believers.
We are to live among God's faithful people, to hear the word of God, to share in the Lord's supper, to proclaim the good news of God in Christ through word and deed, to serve all people, following the example of Jesus. These faith practices are our mission to go and do.
Vacation Bible School coming this summer!
'This is my Father's World'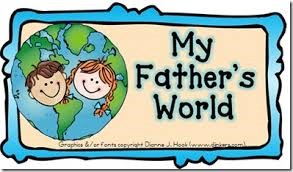 It is not to early to start planning your children's summer activities. Mark your calendar
August 10-14, 9:00am-12:00 Noon, for ages 4 through 6th grade. Come for an exciting week
of exploring the Bible, creative crafts, music, snacks and fun activities with new friends at VBS. Click on 2020 VBS Registration Form for more information and to sign up. See you this summer!